Kolkata Old School Metal Association have been organizing gigs for quite sometime, and with every gig their support and lineup continues to grow massive, They are working on their next venture 'Strength of Steel' to be held on August 22nd in Kolkata , We had a brief chat with the organizers about the show and what the fans should expect this time, And it's pretty damn impressive. Read on.
How long has KOSMA been around and whose brainchild was it?
Well, KOSMA (Kolkata Old School Metal Association) is the brainchild of Samrat Daas (Mortar, Falcun). During 2011-12 the metal bands that existed in Kolkata predominantly played modern styles and genres of metal and there was almost no band that was interested in playing and exploring the older, more traditional sounds of heavy metal. It was only in the latter half of 2011 that two guys – Samrat & Indranil – both hugely passionate about heavy metal decided to form their own bands Mortar and Armament respectively. I'd say this was the pivotal point around which the seeds of KOSMA were sown with my longtime friend Somdatta and me getting more involved in the thick of things. The group was officially opened on Facebook on 9th April, 2012.
How many gigs have you guys at KOSMA organised since your inception and what were your line-ups?
Since our inception we have arranged five gigs with the latest one, Strength of Steel, due in August. The lineups for each gig are:
a) Forged in Fire I – Steelbird, Mortuary, Apotheosis, Armament, Mortar, Dead Veneration
b) Metal on Metal open air – Mortar, Armament, Dead Veneration, Gypsy
c) Hard n' Heavy open air – Mortar, Armament, Deadbolt, Blakhole, Gypsy, Steelbird
d) Forged in Fire II – Mortar, Necrodeity, Deadbolt, Purgation, Das Hubris, Wicked Child
e) Strength of Steel – Albatross, Primitiv, Hellwind, Blakhole, Falcun, Armament
All your gigs have been DIY except one, which we recall was crowd-funded. How was the support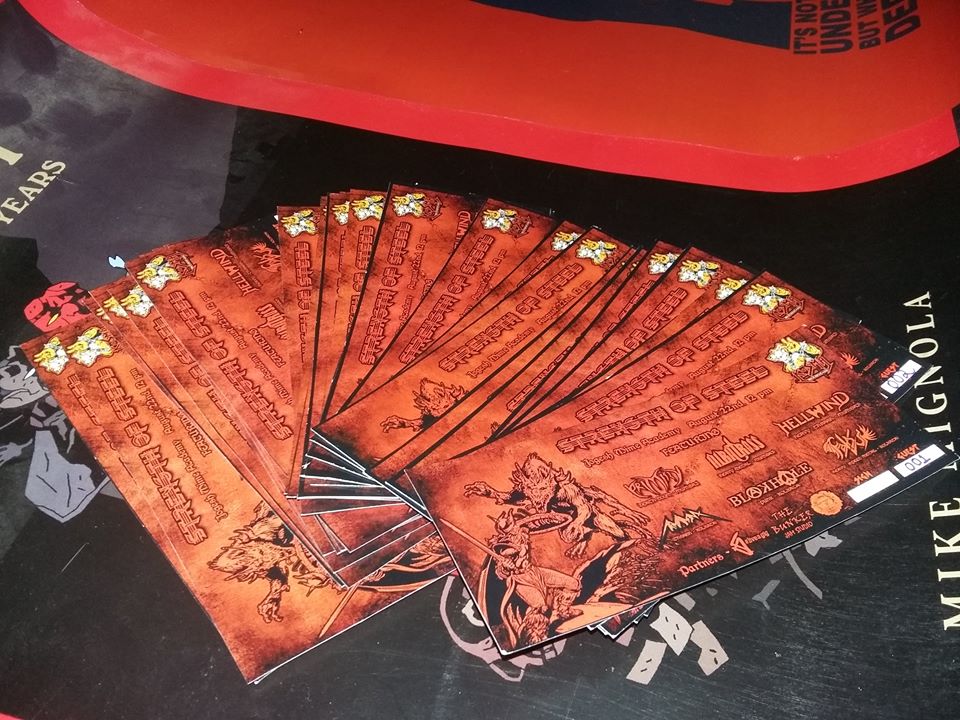 that you received for that particular gig?
Well, we were all very skeptical about the idea of doing a crowd funded gig but the support was in one word PHENOMENAL. Fans from all over India, even those who could not attend the show, chipped in contributions to raise funds and it just shows that KOSMA is not like any other XYZ group. Here most of the members know each other, have respect for each other and share the same passion and pride for old school hard rock and heavy metal music. It's a place for celebrating the spirit of heavy metal.
Do you have any support/sponsors/partnerships for Strength of Steel?
We have Live: A Gig and Kolkata Metal Scene as our online promotional partners. Also, The Bunker Jam Studios is supporting this show. We also have a few friends all over India (they know who they are), who do their bit to provide the much needed support for a DIY gig like this and help us by contributing. We can't thank each of you guys enough, because this means a lot to a small organization like us.
What made you decide on such a diverse lineup from punk rock band Blakhole to doom-death band Primitiv for your upcoming gig?
KOSMA always believes in "unity in diversity", and that's why we have genres all across the board in this edition. We have got three traditional heavy metal acts (Albatross, Hellwind, Falcun) which is a feat in itself, as most kids nowadays seem to have forgotten the roots of real heavy metal. Then, we have the ferocious punk attack of Blakhole, punk rock being another genre which is almost non-existent in Kolkata. (real punk rock I mean, not Green Day & Nirvana cover bands). There's Armament, who are considered by many as the best thrash metal band in India right now. And of course, Primitv with their crushing death doom riffs adds yet another dimension to the lineup. So, there's something for everyone.
What can the local metal-heads expect from the bands playing and from Strength of Steel?
Well, a heavy metal concert is much more than just coming to a show and watching bands. It's also about meeting people who have similar thought patterns as you, because in normal everyday life, it's hard to come across metal-heads. So, apart from watching spectacular and energetic stage performances by each band, you can come and feel yourself free among other fellow metal lovers without anyone to judge you or your actions and no taboos of any sort to tie you down. And we can all together bask in the glory of old school metal at Strength of Steel on Aug 22nd. And oh, each and every band will pay a tribute to the gods Black Sabbath; something that has never happened in the past in Calcutta.
Tickets: Passes will be distributed solely on 1st come 1st serve basis. Hurry up and get yours before they run out. Contact any of the below numbers for collecting your pass:- 9804431339, 8981010693, 8961185665, 9830717644, 9433136540.
KOSMA on facebook
The following two tabs change content below.
Merch trader, Heavy-metal poseur
Latest posts by Brijraj Agarwal (see all)
Related Posts
« What Escapes Me release artwork for 'Egress Point' Friday flashback: 'Mark Tremonti – Cauterize' Review »