Bangladeshi black metal scene is rising at full tilt with the addition of newer and newer diabolic hordes. Burial Dust proclaimed their existence during the culmination of the year 2013. The dreadful troop of Bengal preaches the unholy inscription to extinguish the false religious faiths of the society and sermonizes the occultism of death, darkness and superstition with their diabolical melody and chaos.
The horde unleashed the debut EP, "Oshubho Ahobaan" ("Ominous Call" in English) on February 05, 2016 in Pro CD format. The EP consists of five tenebrous anthems. Subject of the anthems rotates from manifesting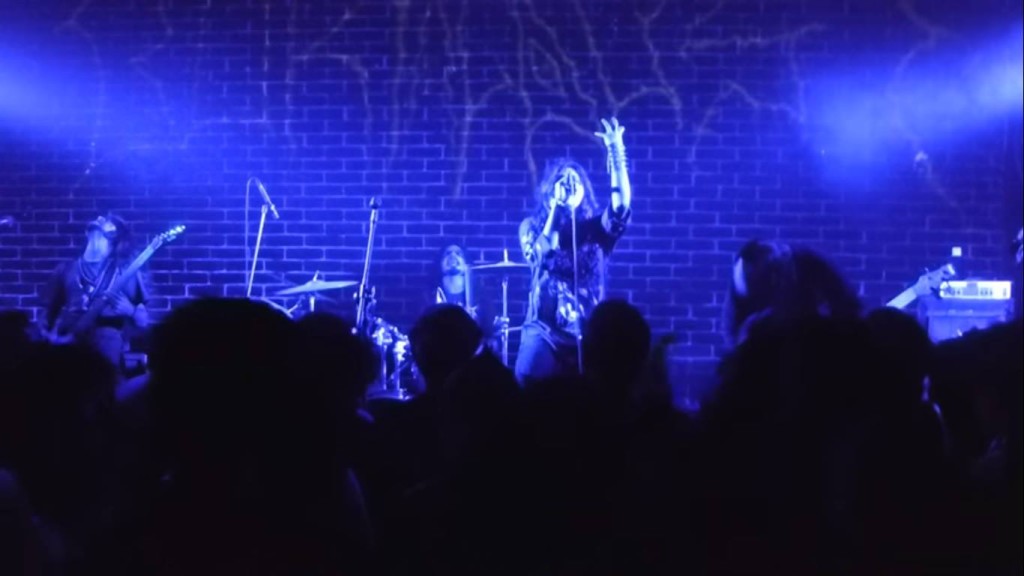 sheer blasphemy to focusing on the ambience of death, from expounding occult to recalling the Egyptian deity Amun. Musically, they have added an eastern vibe with the influences from Early Mayhem, Morbid, Beherit, Von, Orthodox-styled black metal acts and the likes; the aftermath is an unilluminated sonic expedition of 27 minutes.
We caught up with Turaghh, who churns out infernal tunes with his guitar for Burial Dust. The band is pretty glad with the reception for their debut. "There are people ordering EPs from different countries like Germany, Singapore, USA, India and so on. Satisfactory reviews are coming from zines from different countries. We THANK all our supporters and well-wishers."
The band has created their own logo, own artwork and all the inlay designs for the EP as well as released it independently but are open to offers from record labels willing to sign them up for upcoming releases.
When asked whether they're not afraid of playing a genre which is explicitly blasphemous in its lyrical themes and music altogether in a country like Bangladesh where radicals have been known to silence the insurgents (much alike Pakistan and India), the band remarked, "The perceptional and cultural stand of mass people is confined by religious set outs. Everyone wants to hide behind a shield, feel safe and feel special to the core. Only things religion could ever offer are 'potential believers' having preoccupied brains lacking rational judgment of moral good or moral wrong; and a 'better life' in the next for those 'true believers'. These 'true believers' pollute their own existence by their malicious acts and then establish a 'celestial body' on their side. We abdicate this vicious game. Meanwhile we found Black Metal to be the only proper way to express our hatred toward this drama. In the social context of Bangladesh (which is similar to India and Pakistan) there are many people living uneducated, in a devastating environment of malnutrition and under poverty line; for thousands of years these poor people have been praying to their god with fear in eyes and a little hope that the next life will be a safer one where dignity is unconditional. You try to make a single attempt to erase that hope even a bit, they shall perish you. You cannot break a dream that has been dreamt for millenniums. Thus the concept of Black Metal is still a social threat as it renounces all the fake pillars of faith, discards the existence of god and doesn't support a dream which is in fact a byproduct of the evolution and failure of mankind though the passage of time. But you know revolution happens where revolution is needed. Hence we Burial Dust announce our firm existence as a part of this revolution of Black Metal."
Looks like the band is here to stay.
Although there are no plans to tour the subcontinent in near future, the band is more than willing to play in Kolkata and Bangalore among other venues in India if given an opportunity. Gig organizers and promoters, you're listening, right?
Listen to the band here:
The following two tabs change content below.
Merch trader, Heavy-metal poseur
Latest posts by Brijraj Agarwal (see all)
Related Posts
« New music video from Gingerfeet 'Make Your Stand' Kolkata metallers Skybound released debut single "Take Me Back" »