Jayaprakash Satyamurthy reviews the new album from Sabbath Assembly titled Quaternity, released via Svart Records.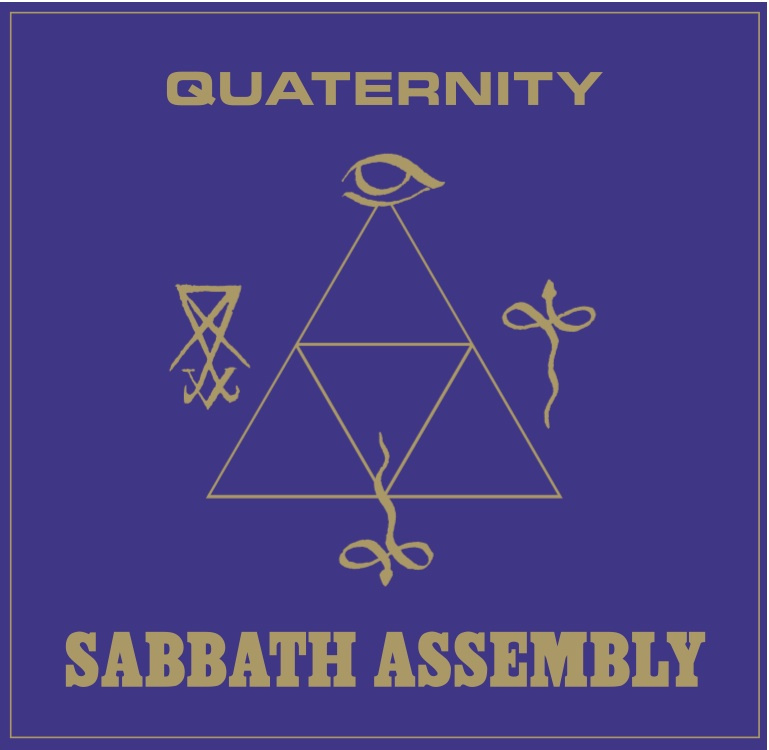 Satan has all the best tunes. Jehovah, too.
There's this thrilling point of intersection between doom, folk, retro hard rock and the occult. It is a territory explored by Hexvessel, Uncle Acid & The Dead Beats, Blood Ceremony and perhaps most authentic of all, Sabbath Assembly. Initially formed as collaboration between experimentalist Dave Nuss and doom priestess Jex Thoth, the band's mission was to record the hymns of a mystical sect called the Process Church of the Final Judgement. Their first album was a heady collation, music with a distinctly ritualistic, hymn-like bent, gorgeous vocals and strange, spiritual lyrics. I was disappointed when Jex parted ways with the Assembly, but pleased when Jamie Myers, whose vocals defined some of my favorite Hammers of Misfortune songs stepped in. Their second album 'Ye Are Gods' was possibly even more of a triumph.  Now, three albums in and running out of material from the Process Church's hymn book, the band looks to be spreading its wings musically while lyrically dwelling on the same topics, basically a strange take on Christian myth.

The results carry on with the wonderful mix of classic Fairport Convention-esque folk blended with the neofolk of bands like Sol Invictus, and a trace of dense doom metal as well. The album opens with two tracks of sublime beauty – 'Let Us Who Mystically Represent' with Myers' crooning voice evoking medieval plainsong over minimal instrumentation and the gorgeous 'The Burning Cross Of Christ' where electric guitars add a wash of soaring melody over their acoustic brethren. Myers' vocal delivery is captivating as she delivers some very powerful lyrics: 'Plagued by gunshots all around/The girl, wounded, goes down/Bleeds her love into the trees/Soaks the roots, her tears on fallen leaves/Rise, o children of the dead/The spawn of blood now smoke in the air'. A simple, effective string backing adds to the power of this song, serene on the surface but with deep currents coursing beneath. 'Jehovah On Death' rides on alternating male and female voices which remind me of the magical exchanges between Myers and Mike Scalzi on 'The Locust Years'. An air of subtle menace, of zeal poised on a razor's edge sets this track apart from the previous ones, and it is interesting that some of the most bloody and vengeful lyrics here are taken straight from The Bible.

I was listening to this album late at night on my headphones, drifting in and out of sleep and I woke up in a state of confusion, even terror, during the next song. There's no shortage of songs invoking the devil in modern music, but 'I Satan' is the single most entrancing and unnerving example of its kind outside of the works of Diamanda Galas. Myers is evil incarnate, declaring 'I, Satan, stand for war, I glory in war/Man in battle, struggling with death/Man venting his wrath/I scorn the weak-willed victims of war' over a dense, uneasy swirl of sluggish distorted guitar, like an oil slick spreading over the clean, acoustic waters of the album thus far. The guitars, by the way, continue to be handled by Kevin Hufnagel who also played on Gorguts' 2013 comeback, 'Coloured Sands'.
'Lucifer' is the first Process Church composition on this album. It's the perfect counterpoint to the darkness and threat of the previous track, coming across as an ardent hymn of devotion to the former archangel. Finally, another Process Church composition, augmented by Sabbath Assembly, closes out the album. At 18 minutes in length, with serene acoustic arrangements and spoken word interludes, this is less a conventional song – although there are great melodies and great singing – than it is a meditation piece or a ritual aid. It's uncertain how many times the average listener will want to return to this track, but if you are in the mood for an all-enveloping mystical musical trip, this song will do the trick.
While the Process Church material holds up, this is obviously a transitional time for Sabbath Assembly. I could care less for whether or not they accurately reflect the teachings of the Process Church, but the 4 originals on this album show that Sabbath Assembly is amply capable of carrying on as a valid musical entity on their own material. Now if they could rope Scalzi in for a duet on the next one…
https://www.facebook.com/SabbathAssembly?ref=br_tf
Stream the entire album below:

The following two tabs change content below.
These dreams of dread, I sprout, All souls so weak, they rout. These gnarled roots of mine, they bind, All souls of so feeble, a mind.
Latest posts by The Slumbering Ent (see all)
Related Posts
« Unholy Grave – Grindcrew Warheads Mayhem To Play Bangalore Open Air 2014 | Message from Necrobutcher »