Achintya Venkatesh reviews the new album from veterans Exhumed titled Necrocracy, released via Relapse Records.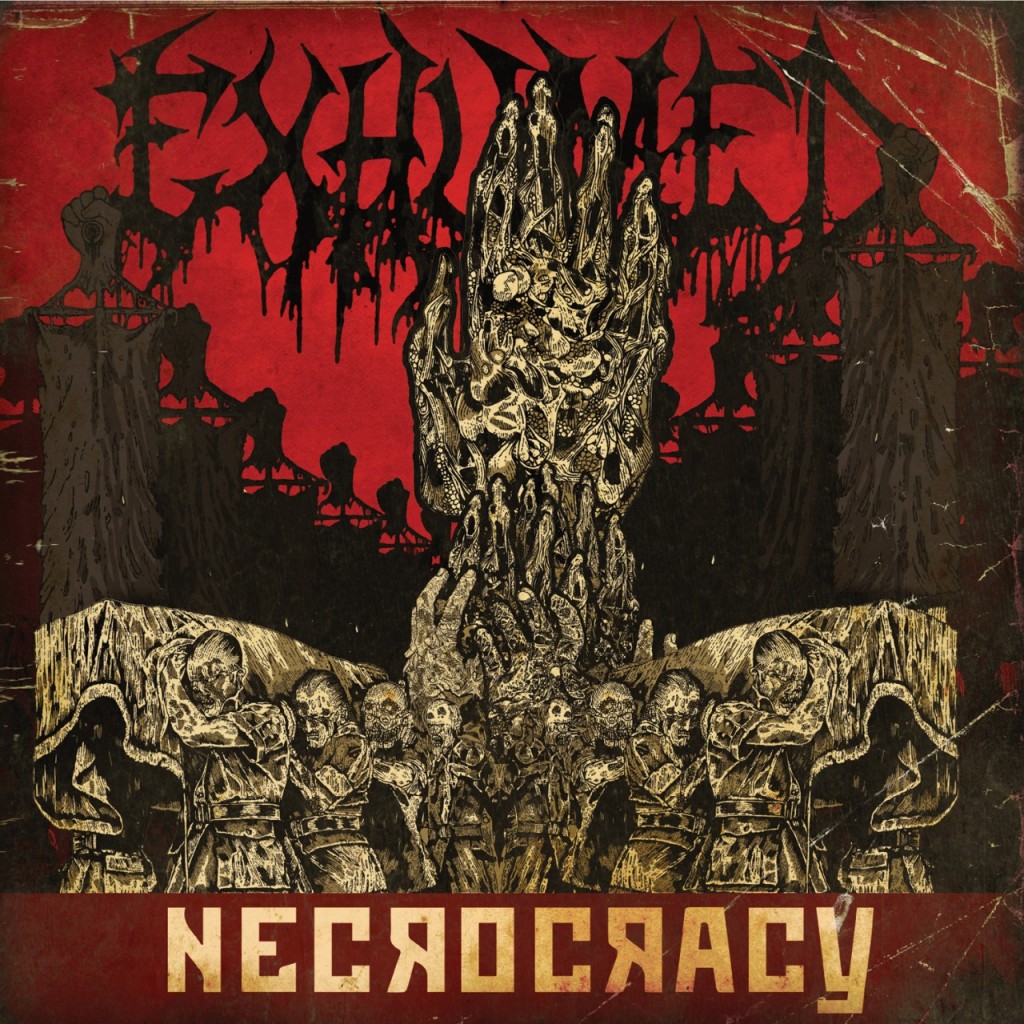 Exhumed has often been subject to endless comparisons with, and is often deemed as the liminal alternative to Carcass in light of the prolonged hiatus of the British extreme metal pioneers (until their recent reformation, of course), and this should come as no surprise given that the band's stylistic leanings are in fact rather evocative of Carcass' various styles across their prolific career. The San Jose natives have known to be a band that has been subject to a slew of critical line-up changes, and 'Necrocracy' sees the comeback of axe man Bud Burke after almost a decade, who originally parted ways with the band due to a personal aversion to heavy touring schedules. 'Necrocracy' picks up where the solid 2011 release, 'All Guts, No Glory' left of, albeit in a more coherent fashion. The record essentially marks their evolution from being a death-grind band to a more settled and focused death metal sound that is in one sense, reminiscent of 'Necroticism – Descanting the Insalubrious' era Carcass. However, such notions do not wholly do justice to this effort and thus deeming Exhumed as mere sonic offspring of Carcass is assuredly a notional leap. Exhumed brings quite a lot to the table that is verily rare in the realm of extreme metal in terms of pure conceptualization of their song-writing.
The album wastes no time with ambient intros or ritualistic dirges and kicks straight off into 'Coins Upon the Eyes' that presents a blistering old school aesthetic with pacing riff work, in addition to a number of tempo changes. The song makes a pleasant shift to alternative rhythms while the commendable soloing takes place. 'The Shape of Deaths to Come' showcases similarly groove-laden rhythms and Heartwork-esque melodies that serve as an aural relief of sorts amidst the petrifying vocals and punishing instrumentation. The standout here is the hyper technical bass work that comes to focus during many of the fills. The following track, the title track of the album sees the band indulging in some immensely enjoyable but not blatantly derivative Carcass worship, and this is reinforced by the following track 'Dysmorphic'. By now it's hard to ignore the fact that Rob Babcock has a keen ear and vision towards creating vocal hooks within the harsh mould of death metal vocals, which is certainly praiseworthy.
'Sickened' sees the band amalgamating their new found punctiliousness with a death-grind indulgence which should please fans regardless of their leanings towards either the grindcore or melodic death metal side of things. Mike Hamilton leads the band into this crescendo of sorts, and unleashes a percussive fury that is reminiscent of the early works of the band. The lead work and guitar harmonies present on the latter half of this track warrant as much commendation as any classic record with similarly stellar guitar work, such as 'Rust in Peace' or 'No More Color'. The next track, '(So Passes) The Glory of Death' is a pinnacle of sorts of the band in terms of sheer song-writing abilities and is a testament to the cohesive nature of the band's latest avatar. The riffs flow with absolute ease in chinks with a solid, unrelenting percussive base, while the melodies are so incredibly well thought out that enjoying them is literally visceral for the listener. 'Ravening' is yet another example of the sheer conceptual brilliance of the band – a controlled frenzy is seen in the instrumentation – Slayer-esque whammy bar abuse to melodic, traditional metal leads, Napalm Death/Terrorizer-invoking blast beats and a hideous vocal pillage. This punitive vocal approach continues onto 'Carrion Call', accompanied by every extreme metal fan's favourite tremolo riffing that makes for a gruelling aural experience. Things are slowed down to some extremely catchy grooves and as ever, resplendent guitar melodies. Exhumed closes this forty minute affair with 'The Rotting' which is a relentless grinding experience that seamlessly flows into a more melodic segment and ends on the same note of ferocity that the album began on.
Stream the entire album here :

In a sense this album could indeed be deemed a realization for the band, whose earlier records seemingly in mutiny to this comparatively coherent and lucid sound, almost as if to say that the band found some efficacy in a more scrupulous musical approach. The capriciousness of their grind/death-grind era may well be missed by some, but this new approach that invokes the incipient death metal sound of the mid 1990's, that hadn't been stripped off its traditional metal and thrash metal roots would be a treat for a slew of enthusiasts. This is evident in some of the groovier/thrashy and melodic segments of the songs. The songs on this album are rather brief and barely hit the five minute mark in most cases. In light of the same, it is very laudable that the band is savvy with the art of being able to compress such lofty musical ideas in such short spans of time, which most bands take time in building up to and thereon market as 'progressive'. The guitar work is admittedly more refined and clinical relative to their older efforts, but is far from descending into a boring, methodical approach adopted by a legion of technically-oriented bands. In terms of pacing, Matt Harvey and Bud Burke lean back on more beefy, chugged chord progressions that go hand in hand with their gravelly, goblin-like, raspy snarls and on the flipside, more low-register guttural growls. This vocal alternation is fantastic and yet again is one of the many facets of the band that enthrals the listener. Mike Hamilton's drumming showcases a great deal of percussive dexterity and moreover, ability to acclimatize to the moods being invoked by the guitar duo's instrumentation in terms of tempo changes. Amidst all this magnificent instrumentation, technical finesse and excellent production, Rob Babcock's bass work adds a grimier element to the dynamics of the band.
'Necrocracy' is not the most stylistically innovative record, and yet this polishing of the band's sound and brings in a certain mastery of their craft that is unique in itself within the context of the band. Essentially the outstanding song-writing ideas on this effort are innumerable, which is what makes the album an absolutely sterling record.
The following two tabs change content below.
These dreams of dread, I sprout, All souls so weak, they rout. These gnarled roots of mine, they bind, All souls of so feeble, a mind.
Latest posts by The Slumbering Ent (see all)
Related Posts