If you manage to spot small flocks of people clad in dark-coloured tees emblazoned with the names of their favourite bands on a typical Saturday in Calcutta, be sure about the fact that there is an unholy congregation somewhere, probably in the southern part of the city. Jogesh Mime Academy, tucked away amidst one of the busiest thoroughfares of the city was where people were flocking to last Saturday to escape from the daily grind for a few hours. KOSMA (Kolkata Old School Metal Association), a fraternity formed purely from one's love for old-school metal music was back with the fifth edition of a series of underground gigs they have been hosting since 2013; this time it was Strength of Steel.
Selling a record number of tickets for the gig that took place on 22 August, in a city where laziness triumphs over passion at times, KOSMA launched an all-out attack from the very beginning, artillery ranging from straight edge punk, death-doom to traditional heavy metal. With three outstation bands in the line-up, namely Hellwind, Primitiv and the mighty Albatross, all from Mumbai and city bands Blakhole, Falcun and Armament serving as supporting acts, together they unleashed an indomitable force of destruction that left the audience thunderstruck.
First up were city-based straight edge punk rock band Blakhole armed with the classic punk sound of the 70s. This band resurfaced after being MIA for quite some time, sounding much better than before. Vocalist Protyush Paul could be spotted from afar sporting an alleged women's nightgown, thus decimating all kinds of sexist, misogynistic societal norms at that very instant. Playing a short set, this band set the ball rolling, with their on-stage antics making them a fun watch. Their crazy and hard-hitting performance screamed of influences drawn from hardcore bands and sheer madness. Their lineup included Black Sabbath's classic Paranoid, giving it a punk rock makeover which sounded fresh and energetic. However the dearth of tightness in the delivery at times was visible amidst their raw and aggressive approach nothing that a few jams couldn't fix.
Next up was the new kid on the block, traditional heavy metal band that goes by the name Falcun who played their debut gig. Previously it was a side project for the band members of city thrashers, Mortar and Armament known as Steelbird, but they decided to go full-time. They clearly upped the ante in this gig with their classic Black Sabbath, Exciter and Savatage covers driving the crowd crazy. Armament vocalist Indranil worked his magic with his warrior brother Samrat who worked the crowd into a frenzy. Their set which involved a few glitches were worth a thousand metal horns for ushering in traditional heavy metal into an abyss of experimental and nu-age music.
In the meantime the guys from Mumbai had landed and arrived at the gig, eager to go onstage and demolish the place. Hard rock/heavy metal band Hellwind took stage for the first time in Calcutta. It's difficult to ascertain what went wrong but they weren't clearly the crowd favourites. Apart from the Black Sabbath tribute and AC/DC cover, there was a Reload era 'Tallica cover as well. Akshay Deodhar clearly knows how to pack a punch right in the face with his belligerent vocals. But their entire set seemed plain-Jane compared to the other bands in the line-up. They did make a late impact with their Priest-styled OC Taste of Metal, albeit overdue.
Images by Deeptarshi Ganguly
With Rajarshi Bhattacharya, Kiron Kumar and Pushkar Joshi joining in from Hellwind, Mumbai-base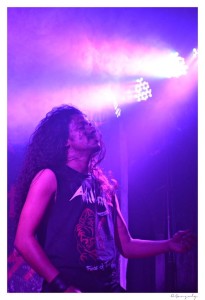 d death-doom band Primitiv was ready to scour the place with their 'primitive' sound which is as old-school as one can get. This beast of a band coupled with their onstage presence felt like a Xenomorph on steroids, reminding one of a DC comics' character, Swamp Thing (I'm not kidding, that's how 'primitive' they are). Front-man Nitin Rajan's voice is the perfect amalgamation of Obituary's John Tardy-esque throws and Barnes-era Corpse's guttural vocals which instigated to open up the mosh pit and let the brutality flow freely. As the frenzied crowd moshed to Obituary's By the Light cover and other Primitiv OCs, everybody was surprised when a nuke landed in the form of a Led Zeppelin cover where Plant's vocals were replaced by Rajan's growls.
Known for their brutally tight performances, it was time for Calcutta's veteran thrash metallers, Armament to slaughter people with electrifying Teutonic thrash. Equipped with a classic thrash influence of the 80's the band delivered wicked covers of bands like Sadus, Demolition Hammer and Agent Steel. Amidst their destruction and chaos they were joined by their former band-mates, Syd Myers on guitar and Ayan on drums. Despite technical difficulties and sound troubles the band emerged unscathed and launched their much-awaited EP, First Strike in the grandest way possible. Of course, an Armament gig is incomplete without their original, Gas Chamber which exhilarated the crowd to open up a mini mosh pit onstage.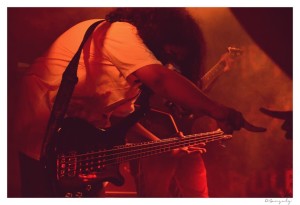 As the night came to an end, it was time for the final, headlining act of the gig, a real big birdie named Albatross. This was the very first time all these Mumbai bands were playing in Calcutta and Albatross was no different. But it was indeed very special for vocalist Biprorshee Das and bassist Dr. Hex a.k.a. Riju Dasgupta to play in their hometown for the very first time.There are very few words that can sum up their performance which began with a brand new song from their latest album (Fear From the Skies), Children of the Cloud. A Sabbath Bloody Sabbath cover, followed by a truckload of originals from their previous EPs left the crowd stunned. Biprorshee's banshee-like shrieks and ghastly laughs coupled with his Herculean vocal range must have made Heath Ledger smile proudly at least once, wherever he may be. The surprise Tornado of Souls cover was the perfect climax for the already perfect night as Albatross literally slayed every single thing in its way.  Nishith Hegde's handiwork definitely raised doubts amongst the metalheads regarding his human (?) identity but before one could ask for more, everything came to an end. Oblivious to the aching necks and painful bodies, amidst the putrid smoke, the glittering lights and the vile figure of Dr. Hex in the background, one could see the mariner letting the Albatross fly away this time, for it to return again.
The following two tabs change content below.
Plotting world domination with his evil minions while you're busy reading this.
Latest posts by Tathagata Mukherjee (see all)
Related Posts
« Exclusive single release:The Berlin wall by Intoxicate Interview with Meta-Stasis | Listen to their new album 'The Paradox Of Metanoia' »