Slash feat. Myles Kennedy & The Conspirators, Supernova Arena, Bangalore
It's a surreal feeling when the thin line between a dream and reality is blurred, that narrow piece of no man's land separating us from the stage with a sturdy barricade in front; when all we want to do is get closer to the finest display of magic we have ever witnessed that goes by the name of Slash. Almost two decades since the last time Slash had set foot in India – back in 1996 for MTV India's re-launch party, where he played a set with our country's very own Indus Creed – the legend was back, looking not a day older. Having grown up to Guns N' Roses, Slash's Snakepit, and Velvet Revolver blasting through the stereos, and trying hard to emulate the same on guitar, it was hard to believe the man behind all of that was right here in flesh and blood, sporting his iconic top hat, sunglasses, leather pants, canvas shoes and a Popaganda tee – just a few meters away, radiating rock and roll every passing second.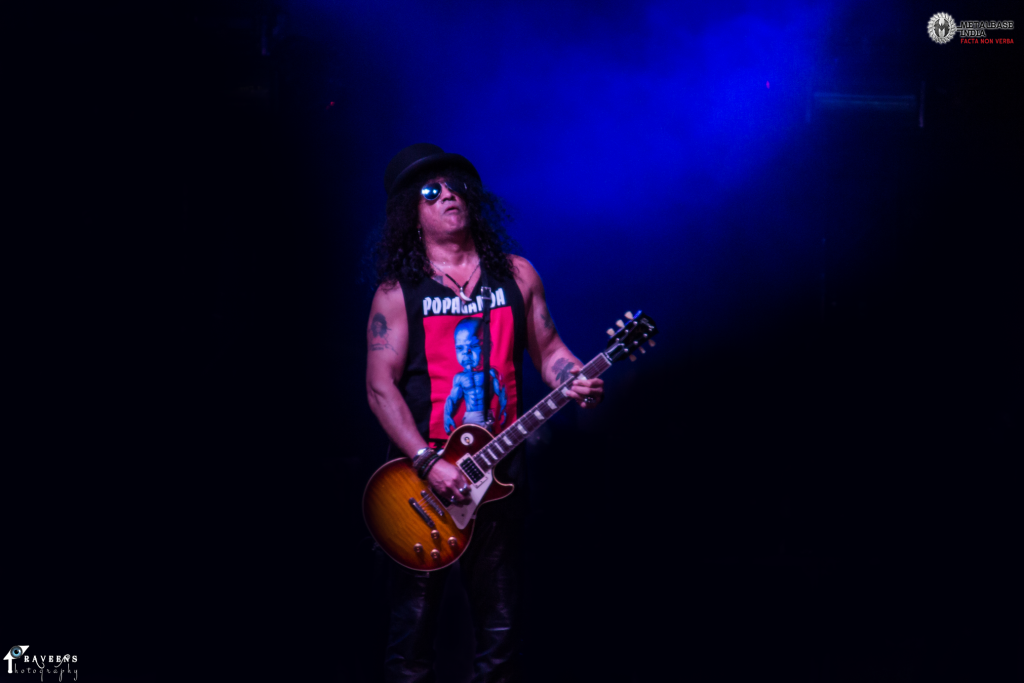 It was hard not to make out Slash's signature Marshall SL5 Amplifiers resting patiently at the back of the stage waiting for the precise moment for its reanimation. A very distracting couple of hours ensued while the opening bands – Rocazaurus (Kochi), Skrat (Chennai) and Indus Creed (Mumbai) – put up great performances to set the mood for the evening while all we could do is stare at the amps in the background like a kid in a candy shop, drooling over every moment. In a timely manner, Slash, Myles Kennedy & The Conspirators (SMKC) – Todd Kerns (Bass), Frank Sidoris (Guitar) and Brent Fitz (Drums) – opened their act with You're A Lie while a translucent screen teased us with views of their silhouettes on stage. Armed with his ever faithful Gibson Les Paul, Slash ran all over jumping up and down while his fingers travelled seamlessly on the fret-board. Being on the tour to promote their latest album World On Fire, it was obvious that they would perform crowd pleasers like Avalon, Bent to Fly, Wicked Stone before venturing into the cult-classics.
A sight which is extremely common for guitarists who decide to go solo have the habit of trying to establish himself as the frontman as well as the guitarist and relegates all his other band members, trying to hog most of the limelight.
And, then there's Slash.
At a glance it's just Slash on a solo tour who has replaced all the drugs and alcohol with just bottles of purified water, but this fact is far from the truth.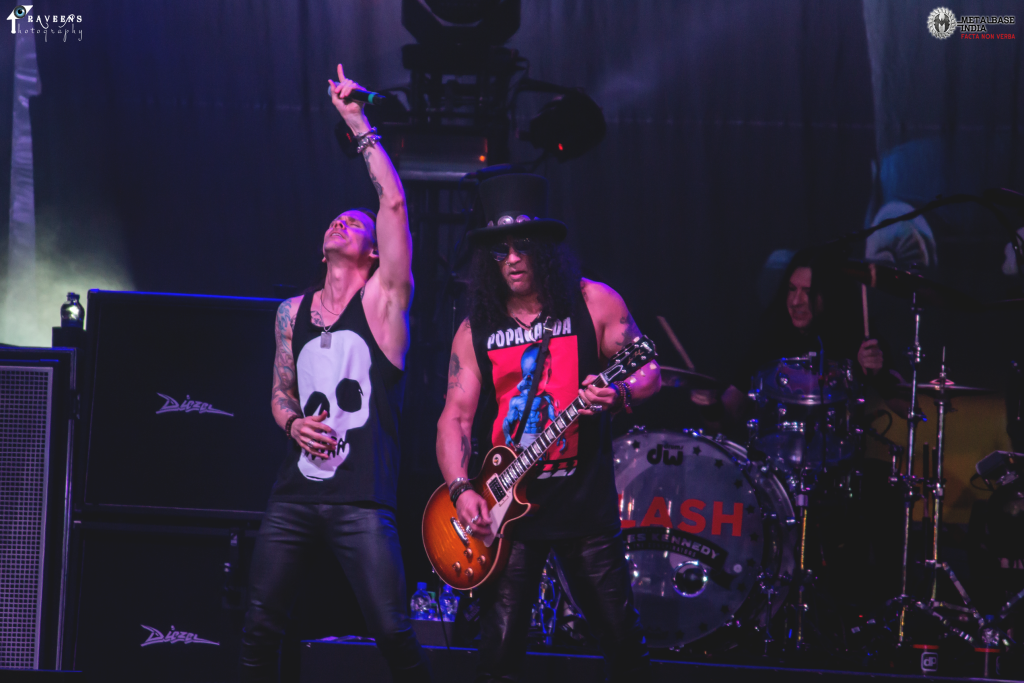 As SMKC joyfully tore into one of GnR's filthiest eras, Slash fired dirty chunks of his classic licks while bassist Todd Kerns ripped the audience apart with his own voice, singing, "Welcome to the jungle, we've got fun 'n' games…" The band that was playing underneath the covers was the one that people here had dreamt of seeing – the legends who took every rule present on the planet and broke them one by one, the band that slayed every fan with their obnoxiously addictive, raucous music. Honestly, it's too hard to fill into the boots of a band of that stature, but Myles sure has his way of making up for it as he opened with a bang, went on to deliver those cult-classic songs along with some of his own from newer albums. His willingness to take this to a stratospheric level, hitting all the right notes and delivering wickedness in his own way is something unique, to say the least. Slash and Sidoris both complemented each other's style of playing while Slash's riffs went off like cannons, the crowd was ultimately caught in a crossfire of majestic music emanating from all directions. It would be criminal not to mention how Slash has maintained his visual appearance unlike others, how splendid he looks and sounds like he's not a day older since he joined GnR.
Just as one was pondering over this thought, a sudden surprise came in the form of a very popular drum groove and Slash's palm mute, creating a scratching sound native to the song which turned out to be none other than Mr. Brownstone – an unexpected act, but not an unwelcome one at all.
You could notice how Kennedy is an unrelenting orchestrator, who works his magic with not only his voice but also his hand gestures, urging the audience to adopt his instructions and sway to the music, in a hypnotic trance. His beguiling voice makes his role seem effortless, yet he has got the biggest boots to fill, and many hearts to please. Slash on the other hand, lets his ferocity and granite-block chords do most of the talking and when he did decide to talk, it was nothing short of funny and impressive. It happened when Myles was introducing the band: "…and this gentleman here who loves to embarrass me. Put your hands together for this fantastic man on the vocals – Myles fuckin' Kennedy, ladies and gentlemen," quipped Slash.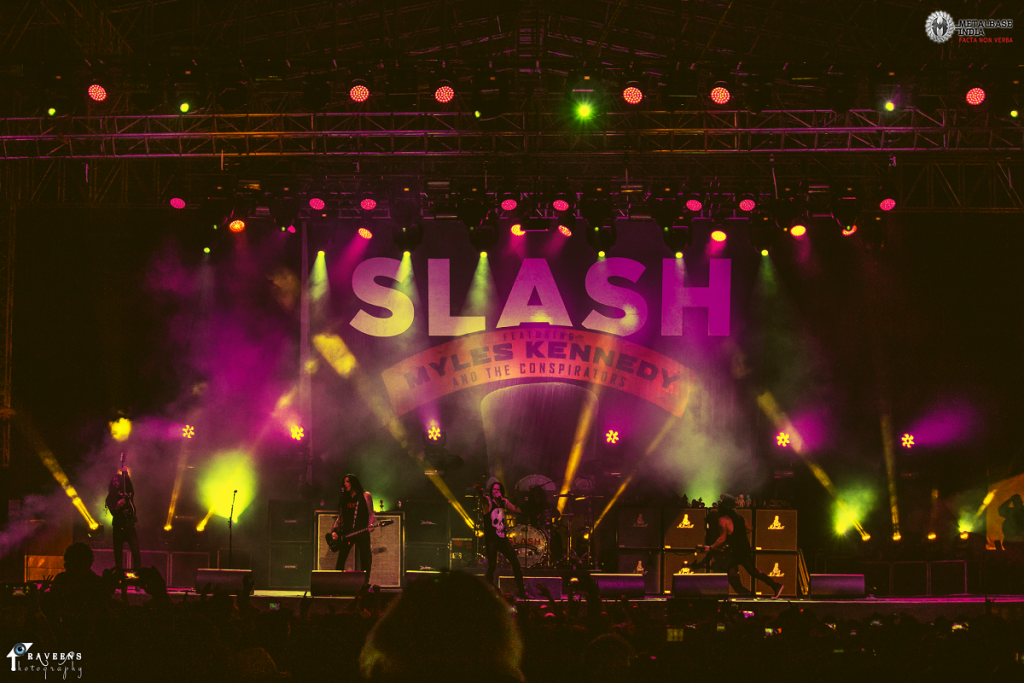 As the band started off Rocket Queen, it felt like a jolt back to reality, a feeling that kept nagging at your mind that something catastrophic was coming. "If you turn me on to anything, You better turn me on tonight…"
And turned on we were, as we sang and witnessed a face-melting, glass-shattering guitar solo that lasted fifteen minutes according to the clock, but any sense of time that we might have retained during the show was completely lost in the dark abyss of timelessness as the Les Paul came to life and spoke to us, enchanting, and seducing the thousands that had gathered with those notes. Balancing this with some new songs from World On Fire – namely Bent to Fly and the title track – Slash decided to change his axe and out came the Guild Crossroads Doubleneck, an amazing piece of artistry, crafted with immense precision that looks too good to be true. As he began caressing the strings, hitting off the acoustic intro in the most graceful way possible, it made the hair on the back of one's neck stand up, shivering with anticipation, waiting for the little shred passage on the electric guitar as Anastasia made its way into the arena. This pure blend of neo-classical music with the bluesy-rock feel has always made mouths water and jump due to the unbridled exhilaration that this song provides.
The gig took an impressive turn when Sweet Child o' Mine finally made its way out of the armory. As Slash's genius poured out, uncontainable, it was the audience who decided to provide some relief to Myles. Smiles broke out on his face as he sang, and we sang along. Another song, a fix of hard rock from an era of radio-pleasers was Feel Like Makin' Love/Slither, seeping in all the excess, raw power of the years gone by. One of the most perfect set-lists possible for any music lover was wrapped up by the only encore of that evening, another classic in the form of Paradise City. The rhythmic loud drums in the beginning and Slash swerving his guitar over his head, hitting the last few notes before it all ended, making it seem like a trip back to 1987.
Two endless streams of confetti erupted to life, marking the end as the band took a final ovation together. "Do you guys like this band? If we come back, would you come see us?" asked Myles.
The crowd's response was evident, and the clock was reset. The long wait for the band's return, whenever, and if at all, it happens, had already begun.
Set-list:
You're a Lie
Nightrain (Guns N' Roses cover)
Avalon
Standing in the Sun
Back from Cali (Slash cover)
Wicked Stone
Brownstone(Guns N' Roses cover)
You Could Be Mine(Guns N' Roses cover)
Doctor Alibi (Slash cover) (Todd Kerns on vocals)
Welcome to the Jungle (Guns N' Roses cover) (Todd Kerns on vocals)
Beneath the Savage Sun
Starlight (Slash cover)
The Dissident
Rocket Queen(Guns N' Roses cover)
Bent to Fly
World on Fire
Anastasia
Sweet Child O' Mine (Guns N' Roses cover)
Feel Like Makin' Love/Slither (Bad Company/Velvet Revolver cover)
Encore:
Paradise City (Guns N' Roses cover)
P.S. A big shout-out to Himanish Bhattacharjee for all his help and thanks to MTV Indies Xtreme & LIVE Viacom 18 for making this dream come true.
Image credit: Praveen Kumar | Video Credit: Himanish Bhattacharjee
The following two tabs change content below.
Plotting world domination with his evil minions while you're busy reading this.
Latest posts by Tathagata Mukherjee (see all)
Related Posts
« Progressive metallers from Pune 'The Abel Projekt' drops debut single 'CHILDREN OF THE HIVE' Bring me the horizon just donated $10,000 to The Ghost Inside's campaign »