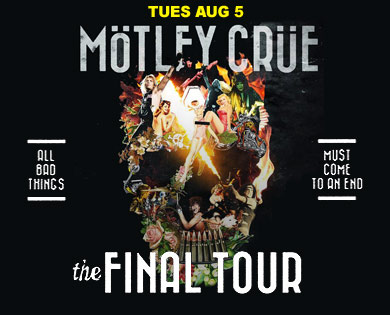 Mötley Crüe have been around since the early days of heavy metal. And while some might snigger at their brand of "hair metal" their followers have been loyal throughout the years helping the band to become one of the most popular bands in the world.
However, all bands come to an end eventually and in 2014, Mötley Crüe announced that they would be playing their final tour accompanied by rock legend and long time friend Alice Cooper. The tour would see the band play 107 North American dates, 5 in Asia, three in Europe, and 6 in Oceania across two years. In total the band would play 115 shows with reports estimating that the band would earn over $26 million from their final tour.
For Vince Neil, Mick Mars, Nikki Sixx and Tommy Lee there would have been many standout shows to look forward to when they booked the tour. One that arguably before their three homecoming shows at the Staples Center in Los Angeles is their show in Las Vegas. The band will be the famous MGM Casino, which is one of the main focal points of the legendary Las Vegas Boulevard.
As one of the biggest proponents of live entertainment, the MGM Resort & Casino built the MGM Grand Garden Arena in 1993. The venue is now one of the most revered of all the Las Vegas arenas where it continues to put on the biggest sporting and musical events welcoming global stars on a weekly basis. The arena holds 16,800 people and will be one of the biggest shows of the Mötley Crüe's farewell tour.
The Grand Garden Arena has become an important part of the MGM's business especially with the influx of online gaming sites that have changed the dynamics of casinos. With the need for land-based casinos to compete with their online counterparts because as InterCasino said in a blog post that online casinos, "have definitely taken the virtual and physical gambling worlds by storm." Thus, it's imperative that casino resorts like the MGM don't rely solely on gaming revenues and look to showcase bands of the ilk of Mötley Crüe on a regular basis to diversify their portfolio.
For an additional information regarding Mötley Crüe's tour, keep up to date with their Facebook page here.
The following two tabs change content below.
Backend Boss at Metalbase India. Beer guzzling metalhead.
Latest posts by Sayantan Sural (see all)
Related Posts
« Ingurgitating Oblivion – Continuum of Absence Maybe 15: the latest offering from Space Behind The Yellow Room »