Reviewed by Arkadeep Deb:
The Brainsaw Sessions came as a piece of good news in a season of depression. Not only had the number of shows in the city seen a stark decline in numbers, but it has also become immensely difficult for one to review a show since the list of acts was a rinse and repeat job, by and by. The same bands opened the shows, the same veterans headlined, with little to no change in setlists, and surprisingly on some occasions failing to show any progress in musical cohesion, with every passing show.
Brainsaw Sessions was a grand initiative in my opinion, but as is with Kolkata, Murphy's Law never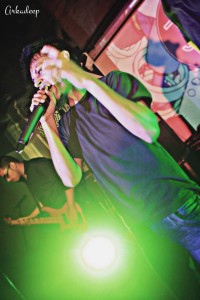 seemed to disappoint: If there was something that could go wrong with an event, it WILL go wrong! After a plethora of wannabe (not in the poseur-ish sense, but in the sense that they were 'would-have-been's) organizers failed to pull off half-cocked events that were each touted to be the end-all,be-all of all Metal concerts, that would put Kolkata on the Indian Metal Map, Brainsaw Sessions was the first effort by a registered franchise in making "Metal Nights" a regular, weekly event to look forward to. There was a kickass venue with a kickass set up, sponsors and such were not so much of a headache this time, and last but not least, there was certain finesse in the manner in which the event was being planned: 3 veteran city acts of varying sub-genres were kicking off the event, the event was being held at a popular watering hole, in short the event reeked of Metal-savvyness! That was the case till the event night itself.
While the social media page spoke of some two hundred odd attendees, it was disturbingly clear that not more than half a century would be the recorded footfall! Partly to blame for this debacle was the fact that the impending board exams were playing a spoil sport. But I'd blame that to be the cause had I not seen familiar faces from concerts dragging their drunken, stoned asses down the street every other day on my way back from work. Never mind!
Was it the marketing?! Nope! While the event was not exactly marketed to be the next Woodstock, there was a generous number of posts and notices doing the rounds; in fact the event was marketed on social media by the organizers and this very webzine itself; so again, if the RSVP numbers on the event page fooled you, then it's because the Calcuttan audience is fickle for the sake of being fickle.
I tip toed to the venue prancing on my tarsal like a kangaroo on Red Bull, afraid that my delay would mean missing out on the first band. After having sorted out my media accessibility thanks to the very magnanimous and considerate organizers Souvik and his associates Nishith and Hirak, I stepped inside, only to realize that the show was essentially pushed back by over an hour. This was because not all the bands had finished soundchecking and because soundchecks were taking longer than expected.
I ask you this, who exactly has more of the headache if the show gets postponed? The organizer or the artists? The answer is both. It is up to the organizer to ensure that the soundchecks are all supposed to be performed way before the show starts; should any band fail to participate I the same they should not be allotted STRICTLY more than 10 minutes for the same. The artist needs to realize that after compliance with the tech rider, the question of the soundcheck, the quality of sound is his and his headache alone; he is supposed to isolate on his preferred settings within that given amount of time and ensure that he does not take his own damn sweet time setting up his instruments such that all the bands lined up after do not have to suffer. I think there needs to be a stipulation followed by all parties concerned: There is a thing called commitment. When you are asked to show up and conduct a sound check at an allotted time, the audience or the organizers should not have to suffer if all of your band's members fail to show up on time. It's not like every show has you working with a particularly non-cooperative sound console guy who evidently stalls the sound check to some extent with his tantrums!
All technical snafus aside, when Brainsaw Sessions really kicked off, it was a sight to behold! Yonsample were the first act of the night and they brandished a set rife with fury and hard-hitting Progressive Modern Metal guitar riffs. Given that their keyboardist was absent from action, the 4-piece for the night pulled off a deft set comprising of new compositions from their upcoming full length, along with old favorites, with élan, paving the way for next act, Chronic Xorn.
Fresh off their B69 conquest where they opened for international acts like Fleshgod Apocalypse and Sikth and Carcass, the band of five looked like they have learnt a few lessons in stage presence and engaging the crowd, from their mood onstage. Having a set stacked with numbers that have all become crowd favorites from performing numerous sets across the city AND the country across a mixed variety of stages, in the last few years, helped their cause. Not only did they have the audience by the jugular from the get go, they also managed to wield an imaginary wand over the same and work them up into the frenzy, every time the latter seemed to fall short on energy after the vicious small and intimate circle pits and wall of deaths. Being the band that started it all for yours truly, when it comes to Indian Metal or even Calcutta Metal, it was kind of elevating to see the band come such a long way, survive a number of changes in the lineup and still manage to get better with every show!
Not Yet Decided was the final act of the night and it was a homecoming of sorts for them as their original drummer and co-founder Sayan Adhikary was playing a one off show with the band. The band played a mix of their old and new original compositions. In a set peppered with originals that have been constructed on the same template as those by the Modern Metal acts that made headlines at the turn of the century such as Nothingface and 40 Below Summer, the band left no stone unturned in bringing out the eccentric side of the crowd, a common attribute at every show they play. Accompanying the band faithfully was the 'NYD Kid', their creepy-ass mascot, a rubber baby doll that has taken its share of tests of time and dust only to come out on top looking like Chucky's bastard child. Adding fuel to the flame was the band's cover of Mudvayne's menacingly epic number, "Dig". Suffice to say, the night ended on a break neck note, with NYD's frontman Kabya getting rid of his shoes and jacket early so he can dominate the stage better. (Read:JUMPTHAFUKUP).
When all is said and done, there is but one particular class of attendees who are particularly affected by the gig, rather every gig for that matter, for every passing gig decides the fate of Heavy Metal in the city. If anyone has studied anything from the shows that are being held at Kolkata, then they must have also noticed that there seems to be a surprising number of parameters that have an effect on an event, essentially. Firstly, the organizer; the organizer can make or break his own show; his marketing strategies, PR tactics, networking skills are what counts which means essentially that depending on the organizer and his efforts the footfall can rise and fall. Second would be the location: One can effectively map a co-relation with which the footfall varies in this city, such that the footfall is huge if the venue is in the Southern section, and then slowly starts to dwindle when the location moves North. Thirdly, the audience. The audience in Kolkata, is as fickle as a fly in a sweet meats bazaar. Even with a sizeable "Metal Population", the city has seen a literally diseased state of affairs with numbers dropping for a show comprising of gem acts, example at hand Brainsaw Edition, while in some case the footfall soars unbelievably, even though the bands on the bill have been rehashed over and over and over again, as if monotony is just an alien factor. There is a cringing trend among the so-called attendees that illustrates this fact, in that attendees only watch bands they like are familiar with and show little to know curiosity in a good, tight band, simply because they might be new to the "scene" or have a different sound template. I loathe the day when there will not be a single Metalhead in the city for whom distance, relevance, familiarity, venue, amenities, yada-yada will NOT be a matter. The breed of metalheads who simply turned up at every show, regardless of the kind of Metal that is being played on stage, simply because it's Metal, is near-dead, which is immensely depressing. There used to be a time when one would walk into a completely unfamiliar part of the city for a gig and immediately feel at home because there would be the same smiling faces welcoming them with an open arms; there used to be a time when the front man would stop mid-set, because the crowd would be chanting every word back, note for note; there used to be a time when a Metal show in Kolkata would feel like a family gathering, the cacophony of any kind of distinction buried under screams of one singular unified voice: That of the beloved crowd.
Sadly, that day is no more.
To my fellow Calcuttan concert-attendees, this was kind of a last ditch effort to bring Metal to the forefront. This was quite possibly the last time a franchise event management team would have taken the responsibility to organize a regular Metal event. We could have had hassle-free Heavy Metal entertainment without barely legal kids being tricked by sponsors over a string of half-prepared Metal events. But then, you'd rather throw it away than give up a chance to complain. Good going, man, take pause to applaud yourselves.
To the organizers, as a concert-goer who turns up at a show simply for the love of Metal (period), I beg you not to give up on Metal in the city. Sure the audience let you down at Brainsaw Editions, but I firmly believe that you must have felt our gusto in those moments a 30-strong crowd owned the entire venue when they moshed to Yonsample, headbanged to Chronic Xorn, and roared for more to Not Yet Decided. As someone who wants to see Metal being given as much relevance as any other genre, in this city, please don't halt Brainsaw Edition, please don't give up on Metal. On behalf of my brethren who all had something better to do that night than to show up, I'm sorry.
The following two tabs change content below.
Backend Boss at Metalbase India. Beer guzzling metalhead.
Latest posts by Sayantan Sural (see all)
Related Posts
« Saturnalia Temple – To The Other What Plough? new EP 'That Sounds' »