Deckard Cain reviews the new album from Hate titled Crusade:Zero, released via Napalm Records.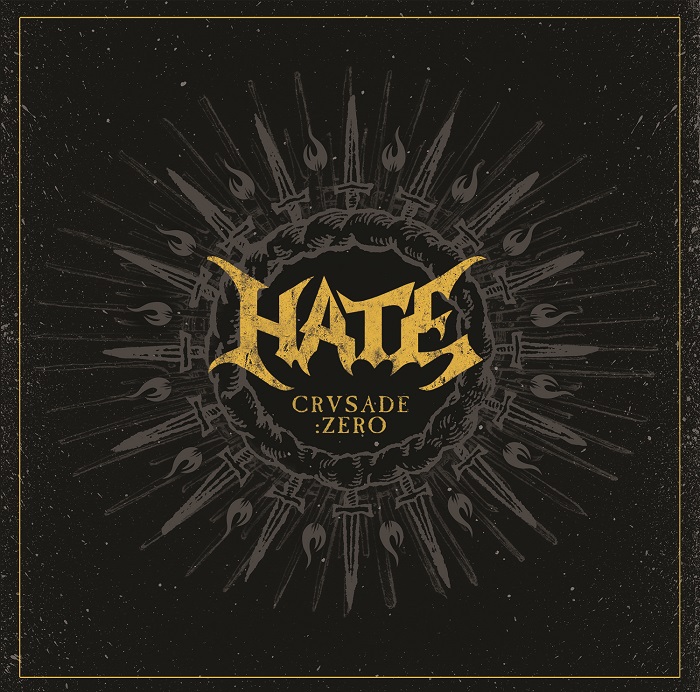 Artwork by Daniel Rusilowicz
 TRACKLIST
I. VOX DEI (A CALL FROM BEYOND)
II. LORD, MAKE ME AN INSTRUMENT OF THY WRATH
III. DEATH LIBERATOR
IV. LEVIATHAN
V. DOOMSDAY CELEBRITIES
VI. HATE IS THE LAW
VII.VALLEY OF DARKNESS
VIII. CRUSADE ZERO
IX. THE OMNIPRESENCE
X. RISE OMEGA THE CONSEQUENCE!
XI. DAWN OF WAR
XII. BLACK AURA DEBRIS
XIII. THE REAPING (BONUS
When Behemoth clones world around stagnate in their redundancy there are only a very few who make it to being even remotely interesting. Behemoth themselves, beyond the tropes, personally is a bit dull save for maybe Demigod and their last release . Hate is one band that seems to me that more than just gets it right. They do so because the term of a clone can never be really applied here for they are in fact a band that predates Behemoth by a year in formation, and their vast experience of staying in business keeps them where they are. And yet a rather unstable line-up is probably one reason why Hate has failed to throw up gains in popularity, as a band you could easily cast in the same mould as Vader and Behemoth could have possibly achieved. And yet their vast amounts of experience that has gathered around the frontman, Adam the First Sinner, has kept the boat afloat. A string of eventful albums from the modern death metal assault on Awakened the Liars to the their latest Solarflesh: A Gospel of Radiant Divinity, a proponent of what has grown to become a unique Polish blackened death, have indeed earned them great acclaim.
And yet what is to be their 9th album Crvsade: Zero is a bit of a dampener in what is a strong career. While much of what made Solarflesh  very enjoyable are still present their rather superfluous abuse at different parts of each song have resulted in a  case of diminishing returns. An album that lacks in variety, consumed a its sense of tepid ideas or the lack-thereof. Those tanking riffs baptised in the most foulest of waters which  formed the very essence of their earlier releases are few and far between or are completely devoid of it. The production although markedly up to modern standards sees Adam's slightly overbearing vocal presence, sometimes pushing the instrumentation to the rear (A no-no for death metal). To add to the damage caused are several ineffective intros, interludes and closers that make the album  a slightly incredulous and contrived affair. And yet tracks like Doomsday Celebrities, lead single Valley of Darkness and closer Dawn of War are only ones that hearken back to the good ol days of 'Hate' that spruced up on the riffing front instilling a much needed variety into the album. These to me were the only instances of the band actually executing what they wanted from themselves.
Sadly this is an album that fails at multiple fronts and just appears to be a mere shadow of the band when compared to their rather illustrious back catalogue. An album more likely to be buried deep beneath the infinitesimal rubble of modern metal, for just towing the 'generic' line.
RATING: 2/5
Ye will neither hate nor love this; ignore or consume at will.
The following two tabs change content below.
These dreams of dread, I sprout, All souls so weak, they rout. These gnarled roots of mine, they bind, All souls of so feeble, a mind.
Latest posts by The Slumbering Ent (see all)
Related Posts
« Thulcandra – Ascension Lost Inner Sanctum Release A Video For 'Wake Of Destruction' From Their Upcoming Album 'Legions Awake' »