Dinesh Raghavendra reviews the new album from Horn of the Rhino titled Summoning Deliverance, released via Doomentia Records.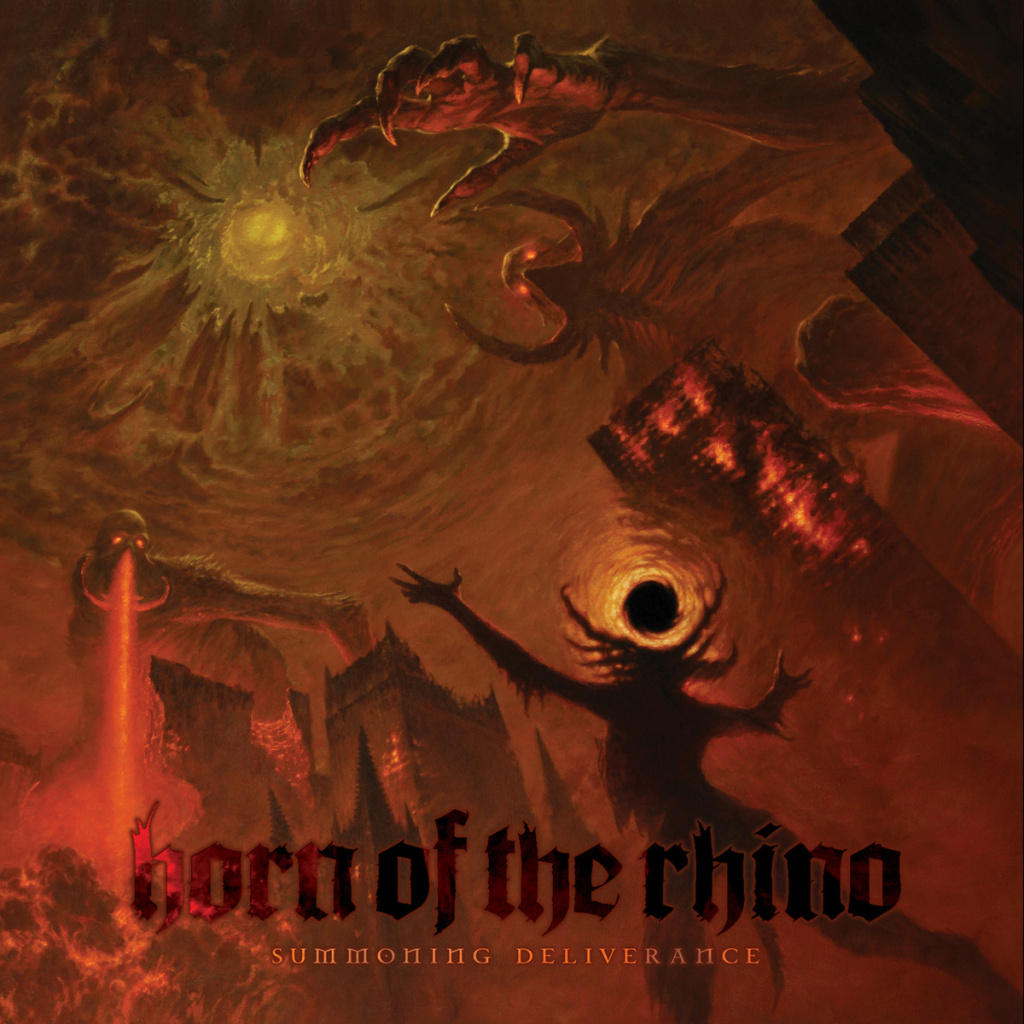 Artwork by Nick Keller
Horn of the Rhino are a badass trio from the Basque. They have been active since 2010 and this is their fifth album. The band has been ridiculously prolific given their short history but there is not a single misstep so far. Almost every album has raised the bar higher than the previous one and I am seriously impressed with this talented group. They have a lot to offer and on this album they deliver their best.
'Weight of the Coronation' was easily one of my all-time favorites but with this one they have broken their benchmark. There are some huge riffs in here that redefine the idea of heavy music and I love the fuzz and the distortion that give this album such a good vibe. There is this basement tape feel to the production that gets the balance just right and I love this album for being so vividly different from almost all the other releases I have heard this year.
Listening to Horn of the Rhino is a bit like being hit with a sledgehammer: there's this raw, powerful impact, the aftershock and a breathlessness that follows the pounding.  Songs like 'Builder of Carrion Effigies' and 'Exvenhstench'  grind and punch their way and their riffs smashing themselves into you. There is a lot of power packed in the vocals and the drumming is intense and huge. There is also the   Conan-esque doom heaviness here; songs that are slow, terrifying, and cruelly inhuman.  Check out 'Their Tombs' and feel yourself getting pounded into the gravel by the fists of the Ancient Gods.
There are ten tracks with a secret number 11 that make a welcome addition to every metalhead's collection.  'An Excess of Faith' the tenth and final track has a riff that is unforgettable. These boys know how to play metal and they are masters of their craft. It is such a pleasure to listen to guitarist/vocalist Javier Gálvez, while bandmates Julen Gil and Sergio Robles back him up with bursting drumbeats and growling basslines respectively.  For me, 'An Excess of Faith' is the fitting climax to 'Summoning Deliverance's' crushing movement.
Thrash, doom, death, Horn of the Rhino offer you a solid cocktail with a mix of them all. There is definitely heavy chances of a hangover but fear not, this is one album that can make you feel all good in the head after the pounding (if you manage to make it to the end, that is) 'Summoning Deliverance' is a masterpiece of metal and its various sub-genres, the sound is hard and the lyrics are vicious.
It's hard to sit through these intense minutes of 'doo-doo-doom doo-doo-doo-doom doom doo-doo-doom', but just take a listen to it in headphones and I'll be damned if you don't remember the experience for eternity: the atmosphere is gripping and increasingly fascinating as they mount a mathematically precise 'climactic' tension that can only be compared to a similar 'calculation' in 'Weight of the Coronation'.
In short, just a good album. And hey, maybe it's stupid to complain about the sound and the rough playing. That's what you should be expecting from such a record, right? So it's probably not their faults if they couldn't get all their complex equipment to function correctly.  All in all, worth listening to and a valuable addition to your music library.
RATING : 4/5
This mighty tome will resurrect the dead, but it may not turn lead to gold
Stream the entire album on bandcamp below
The following two tabs change content below.
These dreams of dread, I sprout, All souls so weak, they rout. These gnarled roots of mine, they bind, All souls of so feeble, a mind.
Latest posts by The Slumbering Ent (see all)
Related Posts
« Abraxas are back all guns blazing Epica takes the stage in two days »