Dinesh Raghavendra reviews the re-issue of Weedeater's Sixteen Tons, out on Season of Mist.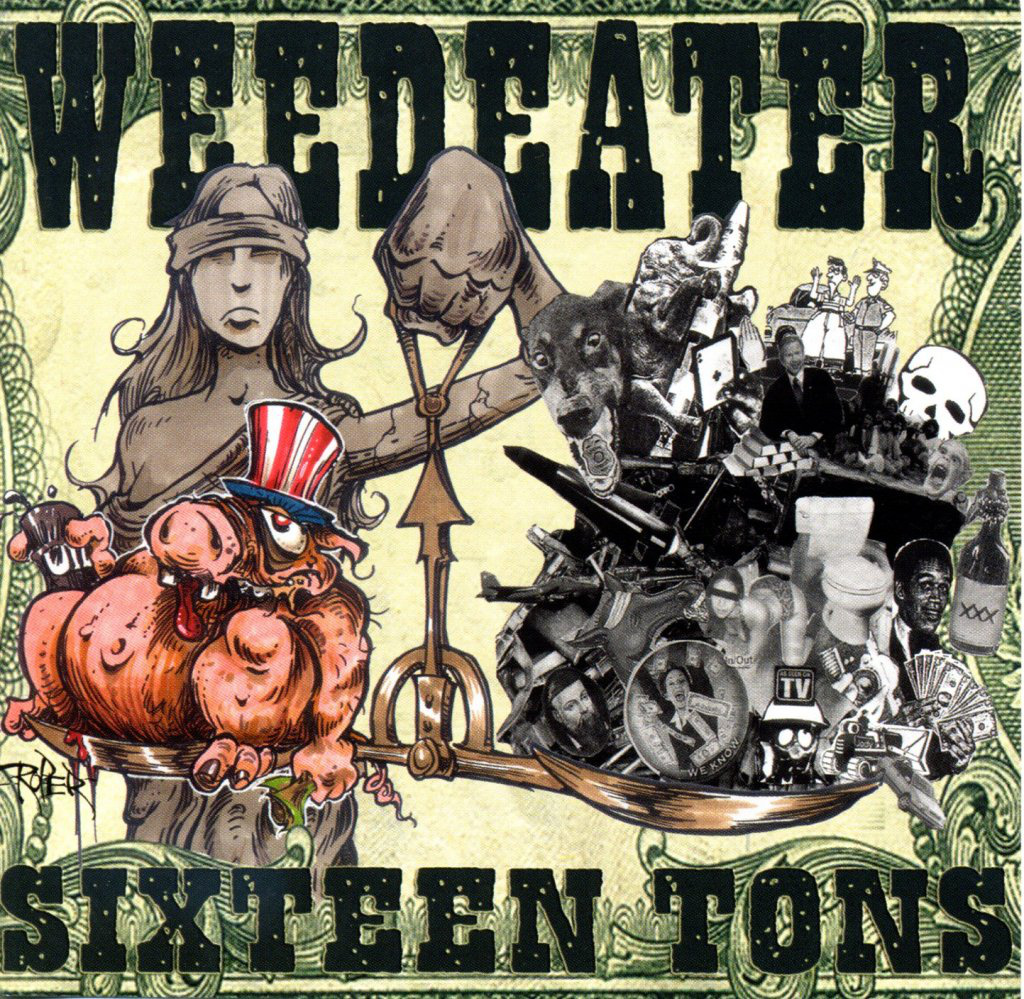 Stoner metal seems to be enjoying a revival in the metal scene at the moment, what with Greenleaf starting off the year strongly with Trials and Passes. Season of Mist has wisely decided to re-release a few dusty old songs from the oeuvre of the self-anointed weed-metal band Weedeater. Sixteen Tons was originally released in 2002 by Crucial Blast Records, and has since disappeared into obscurity. If you already have the original, this review might not be of much use to you but if you are new to Weedeater give this reviewer a fair chance to explain his take on the album and the band in general.
Weedeater play bluesy, sludgy metal that has that characteristic Southern flavor and on Sixteen Tons they strongly emphasize slow to mid-tempo riffs, there is none of the fast paced riffs that formed a chunk of '…And Justice for Y'all' and 'Buzzoven's …At a Loss', the previous albums. "Dixie" Dave Collins contributed bass and vocals to the former and he split vocal duties with Kirk Fisher for the latter. This approach falls into place in "Time Served," a short three minute odd jam with two lines of lyrics that fuses blues to sludge. "Lines" has Black Sabbath influencing some of the riffs and the aggressive vocals make it a catchy track on the album. "Woe's Me" is a pure blues number with acoustic guitar work by Dave "Shep" Shepherd and vocals by Collins, who manages to make it sound earthy and groovy.
The blues and metal fusion idea works for a while but it quickly becomes monotonous, there is very little tempo changes and variation and the band turns into an automation. They overplay a lot of their own riffs. Consider the track "Bull" which is nearly eight minutes long, the song only has a few different riffs in it, and, while they're groovy and fun to nod your head to, it overstays its welcome. It goes on and on and after the six minute mark you just wish it would stop. Vocal distortion is another trick the band tends to use a lot and it doesn't help them on this set of songs. Collins is a good vocalist and his power is realized best in the basement tapes feel of the original album but with a lot of these effects that has been tacked on his vocal range just loses its appeal and sadly turns into a caricature. They should not have experimented with their strongest asset – their vocalist.
Billy Anderson has produced this album and he coats it in a fuzzy, bass-heavy sound that gels with the songs and gives them a raw sound. The bass distortions work well with Shepherd's guitar and give it a solid ending that makes the album finish on a high. Keith Kirkum's drums are loud and loose, and sound live and not they are over-produced.  The band members are having a lot of fun on this album and you can feel it in the songs. The enthusiasm is infectious, it reaches out and grabs you by the throat and makes a foot tapper of the most reticent of listeners.
Sixteen Tons is an old album and stoner veterans would have definitely come across this one in their past.  For the people who are just getting into stoner, Sixteen Tons isn't a bad album to begin with but it is far from Weedeater's best material. There is a lot of evenness that make the album a bit boring overall and I prefer their other work to this one any day of the week. That being said, credit has to be given for the band to explore their sound as much as possible in the albums that came after Sixteen Tons. They grew as a band and you can easily make out the intricacies and the complex arrangements that radiate off the later songs.
My suggestion for the first time listener is to take this album for what it is. Do not keep a lot of expectations out of it and it ought to be a good time but if you expect a lot of fireworks this album sadly does not deliver it. It is better for you to move on to their later albums but for what it's worth, this album is a solid beginning for a band that was just trying to find its element and the cheer makes up for the shortcomings. I would not mind spinning it a few more times but I don't expect it to be memorable in the long run. Weedeater had a lot of space to get inventive on this album but they sadly take a lot of missteps and the result is a tepid album that can quickly fade into mediocrity.
RATING: 2/5 (Ye will neither hate nor love this; ignore or consume at will.)
Stream the entire album on bandcamp below:
The following two tabs change content below.
These dreams of dread, I sprout, All souls so weak, they rout. These gnarled roots of mine, they bind, All souls of so feeble, a mind.
Latest posts by The Slumbering Ent (see all)
Related Posts
« From Sweden With Riffs: Freak Guitar Camp India Skyharbor release their music video of the track 'Patience' »