Dipankar Mohanty after his take on their previous record on our Shooting Oblivion series, decides to give Fallujah's latest a spin. The Flesh Prevails is released via Unique Leader Records.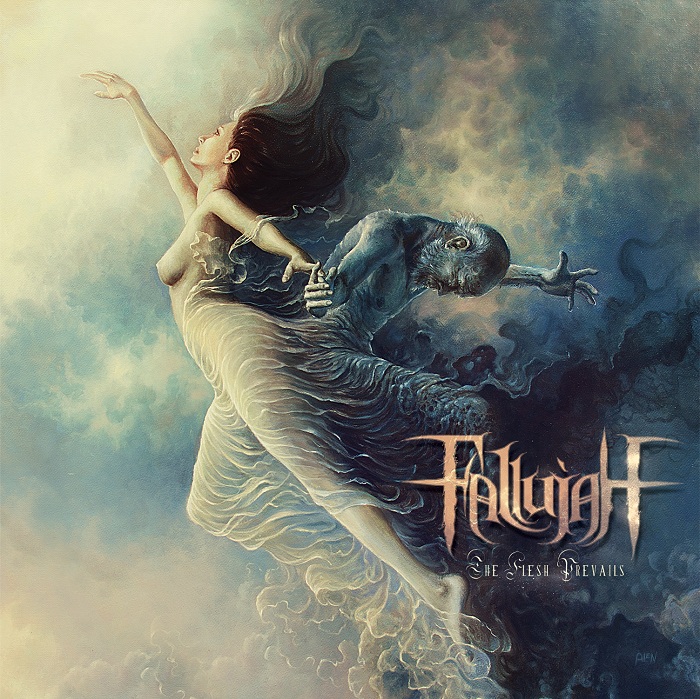 This magnificent artwork is a joint effort between Polish artist Tomasz Alen Kopera and the band's vocalist, Alex Hofmann
So we come to the sophomore release of this progressive/technical death metal band. The band experimented with long runs of spacey melodies and solos in their first album. While the balance between brutality and the progressive melodies were slightly off in their first release, The Harvest Wombs, it still provided a great outburst of positive energy. The band gets the combination better on The Flesh Prevails.
Abrupt phases of technical brutality are toned down and there is a definite cohesion between the contrasting parts as they lead on and intertwine fluidly. Starlit Path is a good example. On the other hand what the band has done is to trim down the elongated melodic parts and solos and give a little more time to the aggressive parts. Two, there are more segue like atmospheric parts akin to what a electro-pop band like Enigma did a decade ago present in songs like Flesh Prevails, Levitation and Alone with You. Now the effects of these are slightly inconsistent, but still a matter of subjective interpretation as to how they fit into the overall messaging. The presence of clean male and female vocals might heighten predicaments, but they are few in number. Also present are longer instrumental passages that ride on the combination of tech riffing/solos and melodies. These get the maximum focus and time. Another interesting melodic trait of the solos is that there seem to be some influences of later era Steve Vai where he experimented with progressive melodies. Fallujah's overall messaging on this release is spot on as well. This has a variety of influences and emanates the same spacey atmosphere in terms of pure emotional response this has the same vibe that a Borknagar or many of the nature oriented atmospheric black metal bands emanate. The only difference here is that the surrounding is replaced by space and the universe. Listeners can choose to scrutinize on the technical elements or can journey through its aether. I think the band might have found its template here and can begin to modify parts to suit their preferences. Again subjective quirks aside, this again is another good release which is technical and emotive at the same time.
RATING : 3.75/5 (This hardy band is on the path to greatness. But only on the path. )
Catch the full stream of the album below:
The following two tabs change content below.
These dreams of dread, I sprout, All souls so weak, they rout. These gnarled roots of mine, they bind, All souls of so feeble, a mind.
Latest posts by The Slumbering Ent (see all)
Related Posts
« Shooting Oblivion: Part II (Fallujah) Bruce Dickinson working on a little different type of metal »