UPDATE: NH7 tells us that Megadeth are not headlining the Kolkata Edition of Bacardi NH7 Weekender.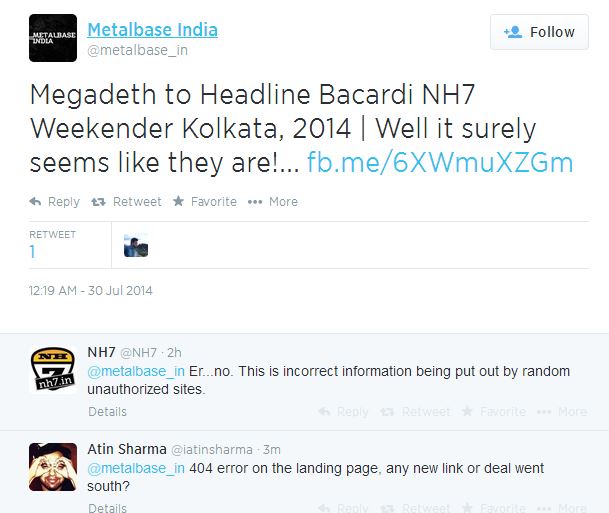 North American thrash metal giants Megadeth are supposedly the headliners of the Bacardi NH7 Weekender, Kolkata on November 1st, 2014. The band played in India back in 2012 at Bacardi NH7 Weekender's Delhi Edition and also in 2008 for the Rock In India series of concerts (which have in the past, featured Metallica and the Backstreet Boys among others) and will be returning to India for the fourth time after two years.
Metal Wani reports that there is also a confirmation on the band headlining on Eventshigh – Gig Listing. Here's a screen grab. Click here to check it yourself.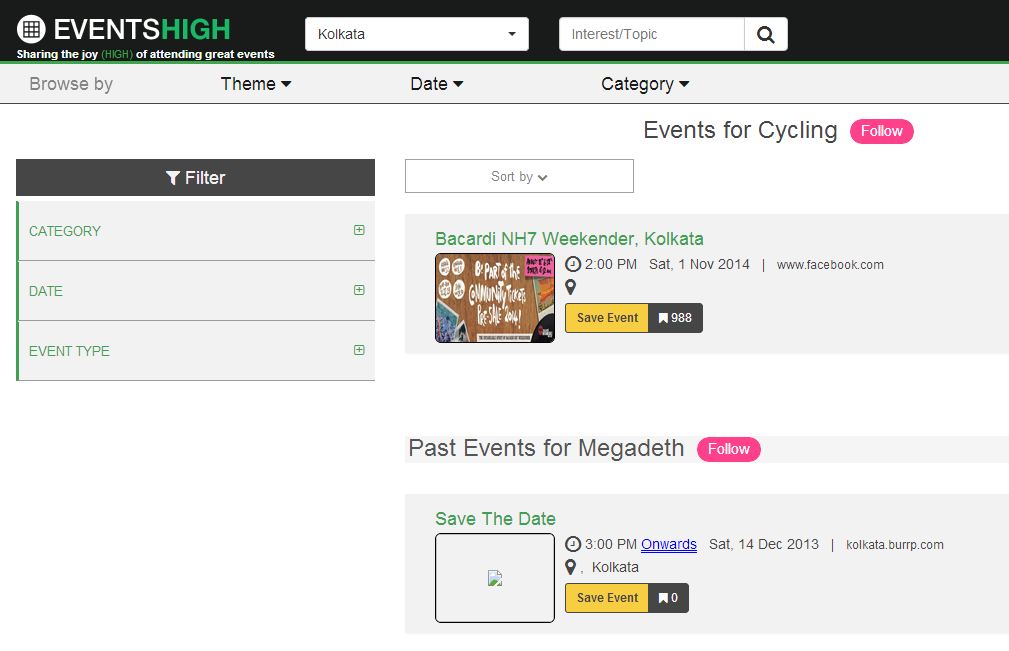 Earlier David Ellefson expressed an undue amount of excitement and happiness at the band's return to India for Bacardi NH7 Weekender, Delhi – 2012 to NH7. This is what he had to say,
We are very excited about Megadeth's return to India in October!! With the new albumTH1RT3EN and the recent twentieth anniversary of the Countdown To Extinction tours, we will be sure to have an extensive and varied song list for our fans to enjoy!
Echoing similarly excited sentiments, drummer Shawn Drover said, Playing India back in 2008 was an amazing and certainly unique experience, to say the least. It's not everyday that I arrive to play a show and there are dancers and elephants waiting to greet you!!! The fans in India are so amazing as well, so it will be a thrill for Megadeth to return to India to perform for them once again.

About Bacardi NH7 Weekender :
The happiest music festival is back! After three years of bringing some of the most exciting artists from India and around the world to fans all over, we're now all set to take that experience to the next level.
Now in its fourth edition, the Bacardi NH7 Weekender grows even bigger, adding a fourth city to the roster. Pune, New Delhi, Bangalore and now Kolkata will see thousands of colourful people, some of the most exciting live performances, great food, bazaars and everything that makes the Bacardi NH7 Weekender the happiest music festival. So get in on the music, dancing and good vibes at the Bacardi NH7 Weekender 2013!
The following two tabs change content below.
Metalhead, digital geek by profession. Loves Rock N Roll and shoots concerts.
Latest posts by Sanath Kumar (see all)
Related Posts
« Yonsample to release their full length album later this year Video Premiere: Eluveitie's "Call of the Mountain" »