Axl Rose seemingly worked his ass off in preparation of this summer's tours fronting Guns N' Roses and AC/DC. Not only is his voice in pretty great shape, but Axl is noticeably slimmer. Unfortunately, as a former fat kid like myself can attest, no matter how much weight you lose, you can never rid yourself of those heinous photos from when you were still fat ass. There's a thing called the Internet, and as Axl has learned first hand, removing not-so-flattering photographs isn't the easiest of tasks.
As TorrentFreak points out, Axl has sent a cease and desist to Google demanding the removal of photos and memes poking fun at his weight. The photos in question were taken by Boris Minkevich for Winnipeg Free Press in 2010. Surely, you've seen them before — at least in meme form.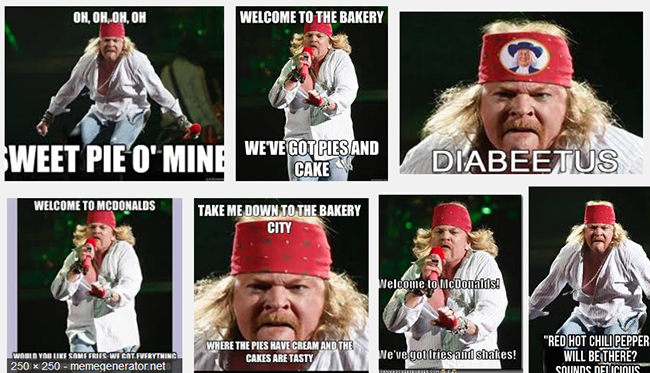 "Copyright image of Axl Rose. Please be advised that no permission has been granted to publish the copyright image so we cannot direct you to an authorized example of it," according to notices sent by Web Sheriff on behalf of Rose.
In a subsequent statement issued to TorrentFreak, a representative for Web Sheriff said Rose's owns the copyright of the photo, even though he didn't take it himself. "We can gladly confirm that all official / accredited photographers at [Axl Rose] shows sign-off on 'Photography Permission' contracts / 'Photographic Release' agreements which A. specify and limit the manner in which the photos can be exploited and B. transfer copyright ownership in such photos to AR's relevant service company."
Google has yet to comply to Rose's takedown notices.
source: consequenceofsound.net
The following two tabs change content below.
Backend Boss at Metalbase India. Beer guzzling metalhead.
Latest posts by Sayantan Sural (see all)
Related Posts
« Steven Wilson live in India on OCT '16 Searock'16 registrations open »