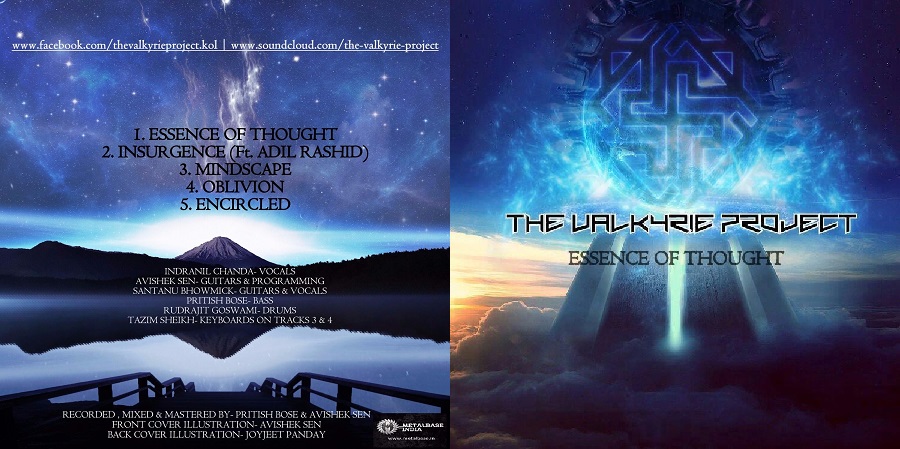 Valkyrie Project(A Modern progressive metal act from Kolkata) released Debut E.p "Essence of thought" You can stream the entire album here on metalbase.
Here's what the band had to say about the project:
Some bands follow established roads. Others may embrace disparate elements. And then there are bands that strip mine their initial reference points and methodically, organically and bravely create a multiverse of their own, a space where they are the only players. The Valkyrie Project is such a collective, achieving a coveted level of self-realization, creative execution and sophistication with their adventuresome, cosmos evoking progressive rock. The core conceptual vision revolves around balance. Balance between classic songwriting and exhibitionist musicianship.
The EP has 5 tracks and they sound amazing, you should definitely check it out. Here are some info about the band.
(guitars) Avisekh Sen, (guitars) Santanu Bhowmick, (bass) Prithis bose, (vocals) indranil chanda (drums) rudrajit goswami
E.p artwork designed by Joyjeet panday
Production: Avisekh sen and Pritish bose
Check out the band on Facebook and soundcloud
The following two tabs change content below.
Backend Boss at Metalbase India. Beer guzzling metalhead.
Latest posts by Sayantan Sural (see all)
Related Posts
« Review of 'The Paradox of Metanoia' by Meta-stasis sennheiser top 50 contest winner 'The local train' »